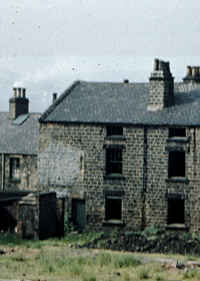 Jarratts Buildings
---
The Community
---
Jarratts Buildings Research
I discovered Jarratts Buildings in Worsbrough Dale, Barnsley whilst researching my family history. It was built in the 1850s to house colliery workers and survived until the 1950s. Over a key century in British history, its 54 dwellings housed several hundred families, including two generations of my ancestors.
Those who lived in Jarratts Buildings were touched by mining disasters, petty criminality and more serious brushes with the law alongside the more routine triumphs and tragedies of everyday life for the poor. Some of their stories are in public records. Others have been passed down as oral history within families.
In this part of the website I am posting information about Jarratts Buildings and its residents, but I have only a fraction of the story. If you have any details or pictures that you are willing to share, please contact me. Several of the stories I have so far collected have been enhanced by input from family members. I would like to preserve the history of Jarratts Buildings to show what life was really like for a working-class mining community.
Stories about the people who lived in Jarratts are split into time periods. If you are looking for a particular family or person, please use the links on the left and check all years.
Pictures are from the collections of T Ashton and C & D Bates or with the kind permission of The British Newspaper Archive.