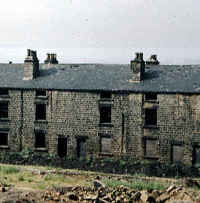 The Community
---
Jarratts Buildings - The Community
Child Welfare
Child mortality was high in Victorian England, with large numbers of children dying before their first birthday and plenty more before their fifth. Working-class children who grew to adulthood had usually faced privations along the way. Those without a father to provide for the family, or a mother to produce meals, may have had bad nutrition. Until education became free and compulsory towards the end of the nineteenth century, many had no opportunity of improving their life chances. The Poor Law was the welfare safety net of the time and those charged with applying it assumed that anyone who needed support was responsible for their own problems. In families with a healthy breadwinner, it was normal for children to do some work to improve the family income. In extreme cases, children could be required to earn their own living and possibly help to support a disabled father or widowed mother. A girl whose mother had died might find herself running the home at a very young age. There are several instances of women who appear to have died in childbirth, including Elizabeth Lockwood (1866) and Lily Clegg (1914).
Children who grew up in Jarratts probably did not suffer extreme poverty, as the mining industry needed plenty of workers. Some widows were eligible for pensions if their husband was killed at work, but the money was not sufficient to pay rent and buy food and clothing. Adults seem to have been practical and, if a spouse died, soon contracted a second marriage. For a widow this provided a breadwinner. A widower obtained a housekeeper and care for his children. What is not clear is the effect that these arrangements of practicality had on bereaved children who found themselves merged with another family and then perhaps joined by half-siblings. Many Jarratts families were related to each other and some brought up the child of a deceased relative. James and Elizabeth Davis No 27 and Tom and Caroline Bowring No 14 appear to have taken a sister's children into their homes on a permanent basis.
Most families of childbearing age experienced the death of at least one child. Several factors contributed to child mortality. One was a lack of sanitation as industry and towns expanded. By the time Jarratts was built at the end of the 1850s, public health was beginning to receive official attention and conditions initially appear better than in the older cottages in Worsborough Dale. Half a century later, the state of some of the houses had deteriorated, but by then, an expanding population and a shortage of homes made it hard to eliminate those in bad condition from the housing stock.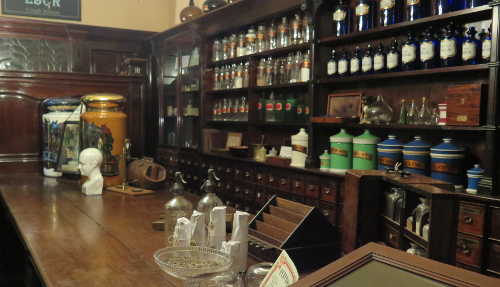 Disease was another cause of child mortality. It was towards the end of the nineteenth century that scientific consensus finally developed about how disease spread, and precautions which could be taken to prevent it. Vaccinations for many infectious illnesses such as measles and whooping cough were not discovered until the twentieth century. Antibiotics to treat infections such as scarlet fever were also a twentieth century development. Although children could recover from these illnesses, sometimes they proved fatal. Before the National Health Service provided free care, families could not always afford to call a doctor, or put off doing so until an illness had become very serious.
In a community like Jarratts, where large numbers of occupants were packed into small houses in close proximity, sickness could spread quickly. In July 1872, Arthur Milward, who was 7 months old and William Beevers aged 19 months were buried on consecutive days. Their families lived at No 27 and No 26 respectively, possibly indicating that the same illness was responsible. In December 1919, four year olds Fred Symons from No 3 and Charles Tazziman from No 7 were also buried on consecutive days.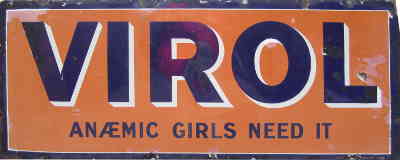 Inadequate parenting was considered to be a major cause of infant death by the middle-classes. Whilst many doctors could cite an example or two of mothers trying to wean a baby onto inappropriate food, taking it out into the cold night air in thin clothing, or giving sedatives to induce sleep, these practices would not have caused anything like the number of deaths which resulted from homes having poor sanitation or rooms which were damp and ill-ventilated. Accidents from a variety of causes also led to the deaths of some children, but this too was only a small proportion of the total number. Alfred and Edwin Bowers of No 7 were killed at work in 1875, demonstrating the official tolerance which existed towards industrial accidents. Reports exist of a few other children who died or were badly injured in freak incidents.
On 10th December 1885, nine-year old Elizabeth Ann Hammond from No 10 came out of the Wesleyan Day School at noon. The school was close to the canal, which had frozen over. Elizabeth went out onto the ice, which gave way under her and she drowned.
In December 1888, Ellen Howson went into the yard leaving her three month old baby asleep in its cradle as her older children played. She returned to find that her sons had set the baby's clothes alight whilst playing with burning paper. Ellen extinguished the flames quickly but the baby was badly burnt on the head, face and back. Names are not given in the report but it is likely the infant was Martha Alice Howson who died in August 1899. Ironically, the paper including this story carried a substantial piece about child cruelty and whether a branch of the NSPCC should be set up in Barnsley to combat it. At that time, middle-class opinion linked cruelty to nuisances which inconvenienced them, such as begging, rather than practical support or education for poor mothers to try to prevent problems occurring.
On 27th August 1910, Christiana Patterson, a widow living at No 18, placed her year old daughter, Ellen, on a table whilst she took some bread out of the oven. Ellen tried to stand and fell, hitting her head on the floor. At that time the only sign of injury was a small bump on the right of her head. Five days later, when Christiana was bathing Ellen she noticed that the bump had become discoloured. A doctor was called and diagnosed meningitis. Ellen died shortly afterwards and an inquest into her death was held.
Witnesses Samuel Dearden, who also live at No 18, and Elizabeth Davis from No 27 who usually laid out the bodies of Jarratts residents were questioned in a manner that suggests the inquest was looking at the wider question of violence towards the child. Elizabeth Davis confirmed that there were no other marks on Ellen's body and the inquest returned a verdict that death had been caused by meningitis, following the fall from the table.
In the nineteenth century, child mortality at Jarratts was probably in line with the prevailing situation in Barnsley and the surrounding area. For almost every family of childbearing age on the site in this period I have noted at least one youngster's death. In the twentieth century, child mortality at Jarratts seems astonishingly high with some families suffering multiple bereavements. It seems probable that the poor condition which some houses were in by that time was a factor.
I have only identified two examples of serious cruelty to a child. In 1913, the Griffiths family briefly lived at Jarratts. They were not local and had been moving around south Yorkshire for several months, trying to evade NSPCC inspectors. In March 1913, John and Priscilla Griffiths were both jailed for 6 months, the maximum sentence, for neglecting their three young children, one of whom was declared to be practically a skeleton. It was alleged that John, a miner, was capable of earning a good wage, but chose not to work.
Between Autumn 1913 and March 1914 the Crossthwaites, who were not local, and their two young daughters, lived in squalid conditions in No 43, allegedly because the father was lazy and did as little paid work as possible. They moved suddenly, without leaving any forwarding address, probably to escape from the NSPCC who were regularly checking up on the children. Subsequently, the couple served short prison sentences for child neglect.
Other prosecutions for child neglect occurred in Worsborough Dale, so it seems likely that serious problems were not happening at Jarratts. Working-class communities may have self-regulated their own standards, expecting anyone who lived there to conform. Also relevant is the fact that many families were related. This probably gave anyone struggling to feed, clothe, or control their children sources of support, which may have prevented any problem situations deteriorating into cruelty or neglect.
Sourced from BMD records, parish registers for St Thomas Church Worsborough Dale, newspapers via the British Newspaper Archive and at Barnsley Archives, and information from former residents.