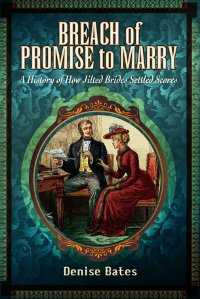 Breach of
Promise to Marry
is available from
the publishers,
Breach of Promise to Marry
The marriage day was fixed, the wedding dresses were bought, the wedding tour was planned out, the wedding guests were invited. The day came but not the bridegroom...'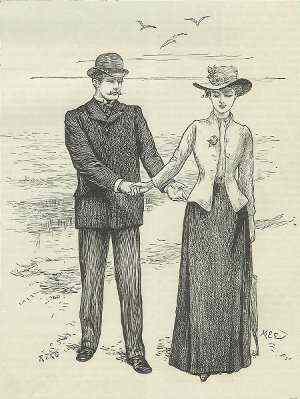 While Dickens' embittered spinster Miss Havisham stopped all her clocks on her wedding day and 'never since looked upon the light of day', the reality was much brighter for thousands of jilted women.The real Miss Havishams didn't mope in faded wedding finery - they hired lawyers and struck the first 'no win, no fee' deals to sue for breach of promise.
From the 1790s right up to the 1960s, jilted women (and sometimes rejected suitors) employed a range of tactics to bring false lovers to book. Denise Bates uncovers over 1,000 forgotten cases of women who found very different endings to their fictional counterpart.
Mary Elizabeth Smith forged evidence of a courtship to entrap an Earl
Catherine Kempshall shot the man who denied their engagement
Gladys Knowles was awarded a record £10,000 damages by a jury in 1890
Daisy Mons discreetly negotiated a £50,000 settlement from a Lord
Based on original research, this social history of breach of promise shows that when men behaved badly, hell had no fury like a woman scorned.
See Reviews for more information.
Chapters
Discrimination and Diversities:

The Development of Breach of Promise 1780-1815

Artful and Abandoned Hussies:

The Heyday of Breach of Promise 1816-1869

A Substitute for a Shotgun?

The Decline of Breach of Promise 1870-1970

All the World's a Stage:

The Legal System and Breach of Promise

Escaping from the Spider's Web:

Defences to Claims for Breach of Promise

Proverbial for their Extravagance:

Damages paid for Breach of Promise

The Court of Public Opinion:

Women who failed with Breach of Promise Claims

Debt, Despair, Divorce and Death:

The Dark Side of Breach of Promise

The Real Miss Havishams:

The Myths and Realities of Breach of Promise

In Want of a Wife?

Breach of Promise Cases pursued by Men
Fifteen Ways to Leave Your Lover
Revealed during the run-up to publication of Breach of Promise to Marry, fifteen ways to leave your lover that didn't make it into the book.
Say your proposal depended on your existing fiancee agreeing to release you from your promise
In 1876, chemist Alfred Hodgson claimed that his proposal to book-keeper Elizabeth Boden was conditional on persuading Miss Russell to allow him to break his engagement to her. He had to pay Elizabeth £200 damages. (Current value £19,550)
In 1892, solicitor James Price sent a telegram to Grace Mitchell pretending to have died suddenly from blood poisoning. Several months later, Grace sentimentally decided that she would like to see her fiance's death certificate and went to Somerset House. There she discovered the certificate belonged to a relative. Price was ordered to pay her £300 for breaking his engagement. (Current value £33,800)
Horatio Backholder, a decorator, was so scared of Maria Hurren's temper that he made an excuse to go out for a cigar, and never returned. Maria eventually found a note on the mantelshelf which read 'Good Bye for ever'. Outraged, she claimed £1,000 damages but was only awarded £20 in 1870. (Current value £2,000)
Sophia Evans sued Andrew Scott in 1855 after he sent a police officer to her home to recover a ring, a bag and umbrella, alleging that Sophia had stolen them. He had given them to her as presents during their engagement. She received £500 because of his outrageous approach. (Current value £45,600)
Get your father to court her
Ann Read, the fiancee of Samuel Wells, found herself fighting off the attentions of his father. After her father's business failed in 1858, Mr Wells Snr began to court Ann. He hoped this would cause the engagement to collapse and allow his son to walk away from his promise. Ann was awarded £500 damages and praised by the judge for her ladylike conduct in distressing circumstances. (Current value £52,600)
Realise it would kill your mother-in-law
In 1857, Sunderland widower, John Redpath, proposed to Ann Shaw. His first wife's mother, who had some property to leave, ruled Redpath with a rod of iron and disapproved of Ann. He called off the wedding saying it would put his mother-in-law in an early grave if he brought another wife into the house. He had to pay Ann just £25 in damages and probably considered that he had got off very lightly. (Current value £2,400)
On the way to Whitby Church to be married to Sarah Anderson in 1861, Thomas Thistle was met by two friends who enquired if he was mad and led him firmly away down the 199 steps from the church. Thistle was told to pay Mrs Anderson £100. This was a substantial sum for a lodging-house keeper to be awarded for breach of promise. It reflects the annoyance of the jury that Thistle defended his conduct by alleging that Sarah had extracted the proposal by fraud, after getting him intoxicated. (Current value £10,000)
Trick her into writing a letter of release
In 1829, Pembrokeshire clergyman Thomas Williams seduced his fiancée, Anne Griffiths. When she announced a pregnancy he realised this would not bode well for his career in the church. He said that he intended to marry her but, to avoid any scandal for him, she must first write a letter releasing him from their engagement and denying her pregnancy. As soon as Williams had her letter he began to court another lady and married her a few months later. Anne received £250 damages and the jury said they were satisfied that Williams, who was no longer a clergyman, was the father of her child. (Current value £23,250)
Discover she isn't pregnant
Forty year-old Sarah Hall was much older than wealthy farmer Horatio Nelson Bridger when she seduced him. After being told that she was three months pregnant Bridger agreed to marry her. When it became obvious that Sarah was showing no signs of impending motherhood, Bridger decided against committing himself until she did. No child was born. When evidence of the deception was presented in court in 1831, Sarah agreed to settle the case for £2. (Current value £175)
Tell her to shoot herself
In 1913, Adam McNab put a revolver into Lily Target's hand and told her to shoot herself, when she asked whether he was going to keep their engagement. She won £500, which was a substantial award at that time, showing that the jury was annoyed with his behaviour. (Current value £48,500)
A few hours before the ceremony, Harold Goldsmid, a Paris businessman decided not to marry Henrietta Finch in Exeter in 1898. His mother asked for the ceremony to be postponed as a woman who said she had a claim on the groom had arrived with a pistol and was threatening to go to the church and shoot the bride, the groom, or both. The groom then tried to slip away and take a boat to France. He was found at Dover Pier where a writ for breach of promise was served on him. Henrietta received £1,500 damages. (Current value £165,100)
In 1890, Birkenhead postman, Thomas Morris, decided not to marry Mary Roberts, because he thought married life with an interfering mother-in-law would be a misery. Mary was awarded £30 compensation. (Current value £3,250)
Marry a rich woman instead
In 1847, retired solicitor, Thomas Charles, jilted Mary Phillips and married his rich, seventy-year-old landlady, Frances Williams. The bride was so frail that she had to be carried to the altar in a sedan chair. Mary was awarded £1,000 of his £9,000 capital in damages. Within eighteen months Charles was a widower and appears to have married again a year later, as soon as the accepted period of mourning for a spouse had passed. (Current value £87,850)
Say she knew your family would not accept her
William Parton said that Keziah Langley should have rejected his proposal as she knew his family disapproved of her lowly social status. She obtained £400 damages in 1849. (Current value £43,000)
Send someone to break the engagement for you
When William Welsh failed to convince feisty Mary Cole to end their engagement he sent his sister to plead his case. Mary coolly suggested that Welsh should jilt Miss Lavinia Gray, his new love. When Welsh finally wed Miss Gray in 1860, he had to pay £1,000 to Mary for his disloyalty. (current value £103,000)
Fifteen Ways to Lose Your Lover
Not all women profited when a man changed his mind, especially when she failed to meet prevailing standards of feminine conduct.
Failure to share interests was a warning sign
Reading 'wicked and improper books' lost Anne Blakely her fiancé and her breach of promise claim. The book in question was the now classic Fanny Hill, complete with an obscene print at the front.
Shorrock Eccles had second thoughts about his holiday romance when he realised that Mary Matheson did not share his passion for cricket. It cost him £2,000 (current value approx £200,000) to remain a bachelor.
Relatives could be a bride's worst enemy....
Miss Knight's argumentative father provoked Edward Tucker to quarrel with him. When she told Tucker to apologise to her father on bended knee he refused do so. Miss Knight's demand for £10,000 damages (current value approx £1 million) failed as her family was held responsible for the engagement breaking down.
Meeting a sassy little sister tempted some men to try and trade in their fiancée for the newer model. Eliza Archer pocketed £200 (current value approx £30,000) when John Hinches swapped his affections to sister Susan who repulsed his advances and spilled the beans.
Being too friendly with her future brother-in-law spelled trouble for Louisa Pratt. Although her letters to him were not considered to imply any improper relationship the judge said that Louisa ought to drop her claim.
Mary Sartan's father sent a suitor packing because the man refused to support other members of the family. Her claim for breach of promise failed because her father had rejected the match.
Not realising that her husband was still alive, deserted wife Mary Taylor received a shock when John Kramer, the defendant, produced him in court as his witness to confirm that she was a married woman.
....or she could be her own
Sarah Adams postponed the wedding three times before Robert Leach refused to set another date. When she sued he successfully argued that she had never intended marrying him.
Several women acted in the heat of the moment and repented at leisure. Ernest Gibson had to pay just a farthing to Helen Day. When she told him that she was thinking of ending the engagement he accepted her decision without asking her to reconsider.
Jane Calvert was forced to withdraw a claim against her rich fiancé after acknowledging that she only accepted his proposal because someone she preferred could not afford to make her his wife.
Sometimes the gamble failed
In court, Ann Hayward's former fiancé agreed to pay her £1,000 if he did not marry her within a month. He promptly enlisted and went abroad to avoid marriage or paying her anything.
Annie Russell tried her hand at blackmail once too often when she selected William Adams as a victim. Rather than pay her off, he successfully defended her claim, won an order for costs and when she could not pay had her sent to debtors jail.
Sarah Williams lost her claim against her employer Richard Jones. He convinced a jury that he had no memory of the proposal he was alleged to have made after swallowing a drink prepared by Sarah's mother.
and some verdicts are scarcely believable
Charlotte Emms won only £20 (current value approx £2,000) when William Hunt's parents objected to her pock-marked face. The judge called him a fortunate young man and wondered whether he should investigate whether Hunt had friends on the jury.
Kate Ebborn appeared to have a watertight case against Francis Cadogan. The fact that she had broken an engagement to someone else was probably the reason why she lost the case.