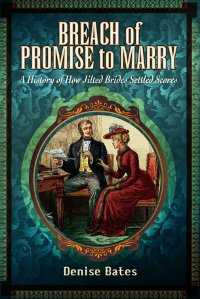 Breach of
Promise to Marry
is available from
the publishers,
Reviews of Breach of Promise to Marry
Great topic and, as with Pit Lasses, a master class in making convincing deductions and arguments from the evidence available. The prose is impressively polished.
Rachel Anchor, University of Leicester, July 2013
Compelling history of an unusual law
Breach of Promise to Marry is the unique history of the little-known law that allowed a jilted person to claim for damages after the breaking of an engagement. Peppered with fascinating case studies and examples, this gripping book explores and explains the complicated world of broken promises of marriage and subsequent settlements within the social context of class differences and roles of women in society.
Through the evolution of the law, Denise Bates encounters jilted lovers, jealous suitors and even partners with a more sinister purpose. There are illegitimate children, unscrupulous seducers and endless score-settling, all underpinned by the universal themes of jealousy, rejection, loss and lust. From the end of the 18th century to the middle of the 20th, it opens a window into the mores and morals of society that motivated wronged individuals to seek justice through the courts.
Breach of Promise to Marry is fascinating social history with a compelling narrative. Denise Bates's research is meticulous and thorough. Her account is well written, informative and entertaining. It is refreshingly different and a rare opportunity to read about a new topic and the impact of an unusual law on individuals and the society in which they lived. I would highly recommend this book.
Angela Buckley, Writer, 22nd January 2014
This is an engrossing look at a forgotten law that affected our ancestors. What emerges is also a social history of marriage and marriage laws, so important for understanding the period in which your ancestors lived.
Family Tree magazine, March 2014
I've just finished reading Breach of Promise to Marry. What an eye-opener. I was fascinated by the varying cases and outcomes. I swung from being on the side of plaintiff to the defendant and even the judiciary. Well worth a read.
Linda Bunting, British Newspaper Archive, 20th March 2014
Discover how brides left at the altar fought back
Sometimes there's a whole social history trend that can illuminate the lives of our ancestors but which has faded from view almost entirely. Such is the case with the former legal minefield of breach of promise to marry.
Denise Bates explores what turns out to be a fascinating subject, shot through with Victorian mores and holding up a mirror to social change. Her study looks at how jilted women were in an unusually powerful position, and charts the law and social atmosphere around the subject from its early days in the 1790s onwards.
This is a fascinating piece of social history, which will be of great interest to many family historians as there is an appendix with research advice too.
Your Family Tree, April 2014
Denise Bates's book confirms that the best way for a woman to get back at a man has always been to drain his bank balance.
Mail on Sunday, 23rd March 2014
A fascinating piece of social history.
Mail Online Book of the Week, 1st February 2020