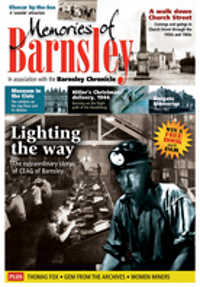 An article from
Winter 2012
Barnsley's Forgotten Heroines
Coalmining is an integral part of Barnsley's industrial heritage. Now rediscovered by historian Denise Bates is the role of its women and girls as underground workers in the first part of the nineteenth century.
In Spring 1841 a government investigator, Jelinger Symons, visited Barnsley and the surrounding villages gathering evidence about the work of children and young people in coal mines. To his horror the young inspector discovered young women working at pits at Gawber, central Barnsley and Silkstone doing work which was beyond their strength.
Six girls from Gawber told their stories. Eleven year old Eliza Coates worked with her older brother moving coal for her father, hurting her arms and back. Ann Eggley, at that time eighteen, and younger sister Elizabeth made a profound impression on Symons. Ann exuded personal dignity, credibility and decorum. Elizabeth attracted his attention by lifting a block of coal greater than her own bodyweight and placing it on top of a laden coal truck to keep the other coals in place. The toil of these two sisters, who worked for different men and moved their trucks alone, was harder and more oppressive than the work of galley slaves. The coal trucks they pushed weighed as much as ten men and were the biggest trucks in the neighbourhood.
Shortly after giving her evidence Ann escaped from this slavery when she married miner John Hardcastle. It was convention in Barnsley that a mining lass stopped work in the pits when she married and relied on her husband's wages. Ann bore several children but when John died she found herself the sole source of support for a grandson. Although an elderly lady she took work as a winder in a mill and opened her home to lodgers, a socially acceptable way at the time for a woman to gain an income. Sadly she died in the workhouse in 1884 and now lies in an unmarked grave in Barnsley cemetery. Sister Elizabeth became Mrs George Goodall and had nine children. In her final years she lived with her youngest daughter, dying in 1896 at the age of 70. She lies a few hundred yards from Ann, also in an unmarked grave.
The words of eight year old trapper, Sarah Gooder feature in many history text-books about child labour in the Industrial Revolution. Sarah worked twelve hour days opening underground doors for coal trucks to pass and then closing them to prevent the build-up of dangerous gases. Often Sarah worked in the dark. Occasionally she was given a small candle to provide her with a light. She sang when she had a light but was too afraid to do so when it had gone out. Sarah married James Marsland and had two sons. She died in 1912, a few years before one of her grandsons died in the carnage that was the first day of the Somme. Sarah too is buried in Barnsley cemetery.
Her elder sisters Ann and Maria worked alongside the Eggley sisters pushing coal trucks. They disappeared from view after the 1841 census. Unusually for the time all three Gooder sisters attended Sunday School and were learning to read. This may have enabled them to find employment as nurses or companions when they were banned from working underground in 1842.
Symons met the six young girls who worked at the Hopwood Pit in Barnsley in controversial circumstances which have also entered the history books. Hannah and Betty Mallender, Bessy Bailey, and Mary Day were discovered without their tops and distinguishable from the boys only by their developing breasts.. Sometimes Mary's sister Elizabeth also removed her top. They were trying to keep cool in a pit which seems to have been hot and difficult to work but Symons failed to recognise this and branded it a den of juvenile vice.
These girls were vilified as morally corrupted by the Victorian press and their topless state was portrayed as the norm amongst female miners. Before the investigation report was published the Mallender sisters and Mary Day choked to death in an underground explosion caused by the negligence of the pit steward. Betty Mallender, the youngest was eleven years old. Ironically Elizabeth Day impressed Symons and in a different part of the report was described as a credible witness who behaved with much propriety. When bestowing this accolade it is unclear whether the investigator realised that she sometimes worked without her top.. A few years later she became Mrs Rock, but died childless in 1849. Bessy Bailey became Mrs Darley and again appears to have been childless. It is not clear what happened to the sixth girl at Hopwood, ten-year-old trapper Maria Mallender.
Simons investigations at Silkstone led to him interviewing Matilda Carr, Ann Holling, Ann Clarkson, Mary Smith, Ann Fern and Rebecca Hough. There he was scandalised neither by oppressive work or inadequate dress but by neglectful parents who made their daughters work in coalmines because there was 'naught else for them to do.' He heard of the Huskar disaster but did not realise that three of the girls he interviewed had lost sisters that day. Nor did he appreciate the efforts made by the Carr family to try to prevent Matilda from working underground.
The articulate evidence of Ann and Elizabeth Eggley and Elizabeth Day was instrumental in convincing the Victorian legislators that women had to be protected from damaging their health with work which was far to heavy for their strength and that young girls should not have to work alongside naked members of the opposite sex.. Until I uncovered their stories whilst researching my book, Pit Lasses, Women and Girls in Coalmining c1800 to 1914, all these girls and their influence on national history had disappeared from view as thought they had never existed. At some time I hope it will be possible for Barnsley to commemorate their contribution in a tangible way. In the meantime I am continuing to appeal for information about these girls.