Pit Lasses Research - Hunshelf
Witness Statements taken at Mr Webster's Pit, Hunshelf, for the Children's Employment Commission by government investigator Jelinger Symons in February 1841. Hunshelf is a locality north of Sheffield which covers Bolsterstone, Deepcar and Stocksbridge.
No 38 Harriet Morton
I am nearly fifteen years old and began to work in Webster's Pit when I was going in 10. I've always worked in Webster and Peace's pit. I have hurried all the time. I am the oldest girl there. There are seven irregular hurriers who are girls. I am sure they always hurry the same time ie from six in the morning till two in the afternoon. Their names are Hannah Hoyle, about ten years old, Betty Moorhouse 9, Sarah Moorhouse going on 15, Ann Hague going on 14, Mary Hague about 10, Elizabeth Morton 10 last Sunday and myself. There are six boys who hurry. Two of us is harnessed with a belt round the waist and a chain comes from the front of the belt and passes betwixt our legs and is hooked on to the corve and we go along on our hands and feet on all fours. I do so myself and a little boy pushes behind. We wear trousers always as when you saw us. It doesn't tire us very much. The little ones are not tired they haven't so much to do. We are never ill-used. I read when I go home from my work. I am not tired. I stayed away a week, the last week but one but that is the first time I've been ill since I went into the pit. I can read. I go to Sunday School and I teach myself in the evenings besides. I can't write.
Comment by Symon (in main report)
An intelligent girl who seemed to feel the degredation of her lot so keenly that it was quite painful to take her evidence.
Harriet and Elizabeth were the daughters of Joseph and Elizabeth Morton. Their siblings were Benjamin, Ann, Thomas, and Sarah. I have not located the sisters on the 1851 census. It is possible that Harriet married in Quarter 1 1851. There are multiple leads for Elizabeth.
No 39 Ann Hague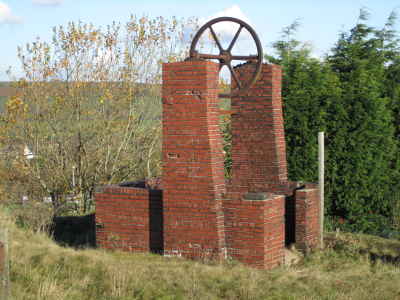 I am turned 13 years old. I hurry the same as the last girl in Webster's Pit. I draw the corve with a chain and belt. There is a little girl, my sister, who pushes behind. We go at six in the morning and come away at two in the afternoon. We have our breakfast before we go and take our dinner with us and get it when we an at the pit, when we've a minute to spare. We often stop as much as half an hour. We don't feel tired a deal at night but we do a little sometimes. We have 24 corves to go in and put with every day. Sarah Moorhouse 'gets' as well as hurries. She earns 1s 6d a day. She gets and hurries eight corves a day. I don't find it very hot in the pit. I don't like working in the pit so very well. I would rather not do it. I can read but I cannot write. (She can read.) I go to Sunday School all but when I am poorly. Having to pull so hard in the pit makes me poorly sometimes. They teach me to read in the Testament at Sunday School. Jesus Christ was the Son of God but I don't know what he came to earth for.
No 40 Mary Hague
I shall be 10 next May. I don't like being in the pit so well. I've been working there about half a year. I've nothing to do but push. It tires me always. I go to work between nine and ten in the morning and leave off at the same time as the other girls. It tires me every day, very near. I go to a Sunday School and went to day school before I began to work in the pit.
Ann and Mary were the daughters of John and Sarah Hague. They had a brother called John. I have not located them after 1841 because Hague and its variant spellings is a common surname in this area.
Betty and Sarah Moorhouse
Assuming the two girls are sisters, they appear to be the daughters of Joseph and Elizabeth Moorhouse. Their siblings are George, Eliza, Ann, Joseph, Lydia, Titus and Harriet. I have not located either sister after 1841 though the family remained in the same area. A death in Quarter 2 1851 may be Sarah.
Hannah Hoyle
Hannah appears to be the daughter of William and Elizabeth Hoyle. Her siblings were Joseph, Harriet, William, Allen, Thomas, John, George, Martha, Mary Ann, Benjamin, James and Andrew. I have no leads for Hannah after 1841 although her family remain in the same area.